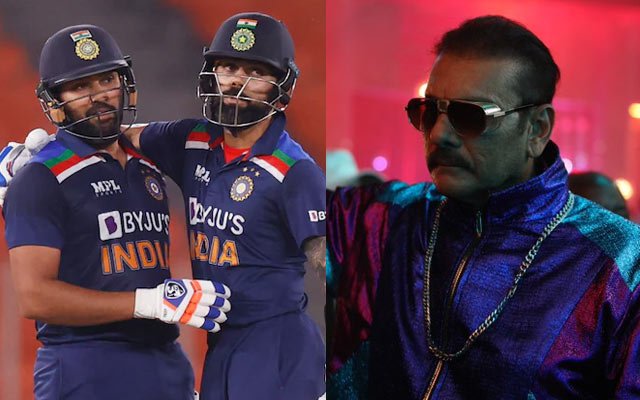 Former India head coach Ravi Shastri has taken Twitter by storm with his latest pictures, updated bio, and tweets. The legendary all-rounder is known for his carefree attitude and he is a popular figure on social media, given his unfiltered comments and opinions.
Shastri turned his swag mode on by updating his Twitter bio and uploading three pictures of himself partying in the nightclub alongside hilarious captions. In the pictures, the former cricketer could be seen wearing vibrant clothes alongside heavy accessories. Ravi Shastri is known for his principle "Work Hard and Party Harder" since his playing days.
A similar incident happened with the Indian skipper Rohit Sharma earlier and the fans believed that his account has been hacked. However, later it was found out that the Hitman had some commercial obligations to fulfil. Now, it is speculated that it is a social media gimmick from Ravi Shastri for a commercial partnership.
Virat Kohli or Rohit Sharma? Ravi Shastri picks between the two in his signature style
On Friday, the former India coach continued his field day on Twitter with the latest tweet in the evening for a Q&A session. Ravi asked the fans to ask him anything as he was in a good mood.
I'm in a good mood today, ask me anything. #AskRavi

— Ravi Shastri (@RaviShastriOfc) May 20, 2022
During the same conversation, a fan asked the former India head coach a tricky question. The fan asked the veteran to pick between the former India skipper Virat Kohli and the current India skipper Rohit Sharma.
"Sir pick one, Rohit or Kohli?" asked the fan.
Ravi Shastri hit it out of the park with his signature bold style and replied, "Jiski bhi party mei zada mazze hai."
Jiski bhi party mei zada mazze hai

— Ravi Shastri (@RaviShastriOfc) May 20, 2022
The lively man was in the top-notch form today as he gave some cheeky answers to other questions as well. A fan tagged Ravi Shastri in a pen sketch but the former all-rounder didn't look amused by it and requested the fan to delete it.
Please mita de yaar 😭😭

— Ravi Shastri (@RaviShastriOfc) May 20, 2022