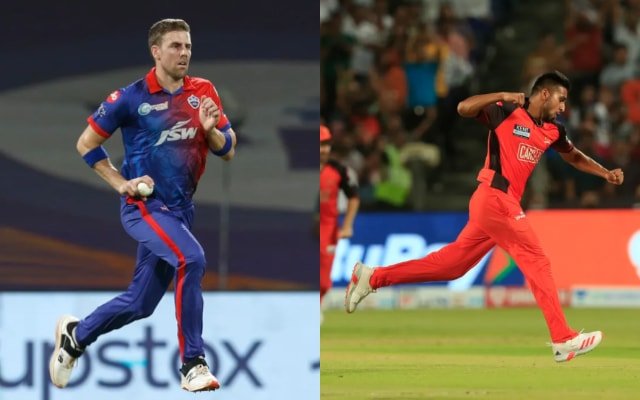 Delhi Capitals pacer Anrich Nortje has come up with a piece of advice for the young sensation Umran Malik regarding his pace. Sunrisers Hyderabad pacer Umran Malik has been hogging a ton of limelight this season courtesy of his raw pace. The youngster from Jammu & Kashmir has earned himself a massive fan following and the chorus of his inclusion in the Indian team is getting louder with each passing game.
However, there is one section which is not in favour to promote Umran so quickly and wants him to go through the required process by working hard in domestic cricket. Many believe that raw pace is not a guarantee to be successful in international cricket. South African pacer Anrich Nortje also shares the same views as he has now advised Umran Malik to work on his skills to be successful.
Anrich Nortje warns Umran Malik that pace is not everything
While Nortje is sure that Umran will represent India in the near future and could also be the key player for the Men in Blue, he advises the youngster to develop more skills to be successful.
"I am sure Umran is going to be one of the key players for India in near future. Luck will also have to play its part. But most importantly, it's about the quality of what you deliver as we have seen fastest deliveries that are being awarded are going for boundaries," said Nortje in an interview with PTI.
The Proteas pacer also added that Umran is at the right place under Dale Steyn (the bowling coach of Sunrisers Hyderabad).
"It doesn't matter at what pace it is bowled. Pace is not the be-all and end-all."It is about the quality of execution. And I believe he is improving on that aspect of having control with pace. Also at Sunrisers Hyderabad, under Dale (Steyn, fast bowling coach), Umran is in good hands. He has a lot of senior and experienced players around him, so he will certainly improve," Anrich Nortje added.
Umran Malik has been in a fine form this season as the youngster has accounted for 18 wickets in 12 matches at a strike rate of 14.6 at a higher economy rate of 9.02. The youngster has been fiery so far but he has been pretty expensive multiple times already.