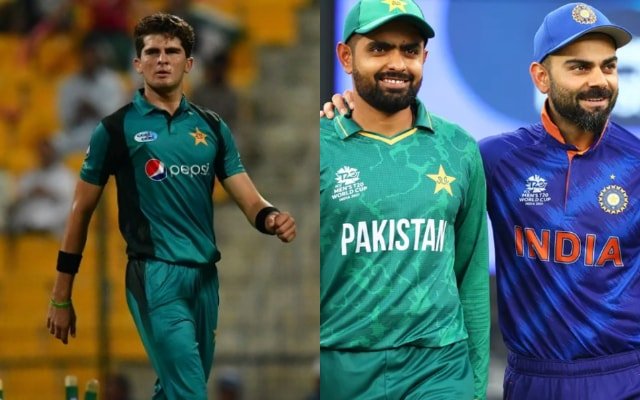 Pakistan pacer Shaheen Afridi has failed to pick his favourite batter between the Pakistan skipper Babar Azam and the former India skipper Virat Kohli. Both Babar Azam and Virat Kohli are considered modern-day legends courtesy of their batting style and extraordinary consistency.
While Virat Kohli might not be among runs lately, he already has carved his name in every record book out there. At the same time, Babar Azam has been the most consistent batter currently across all formats.
Meanwhile, Shaheen Afridi has emerged as the spearhead of the Pakistan pace attack across all formats. He has become a vital cog of Pakistan's set-up and has been playing non-stop cricket. The left-arm pacer recently had a stint with the county club Middlesex in the County Championship 2022.
During that time, the tall speedster took some time off to answer some of the interesting questions thrown at him.
Shaheen Afridi picks one between Virat Kohli and Babar Azam
In a conversation with ESPNCricinfo, the pacer had to face a tricky question about Virat Kohli and Babar Azam. While Shaheen spoke his heart out during the conversation, he chose to play safe when he was asked to name his favourite batter among Babar Azam and Virat Kohli.
"I like both, yeah!," replied Shaheen Afridi.
During the same Q & A session, the left-arm pacer picked his teammate Mohammad Rizwan over the destructive English batter Jos Buttler. He also went on to pick Pakistan Super League over the Indian Premier League.
Notably, Shaheen Afridi has never been a part of the IPL but he captained Lahore Qalandars to their PSL glory earlier this year.
As far as on-field action is concerned, Afridi is a part of the Pakistan team for the ODI series against the West Indies. In the first two games, he has had average outings as the fiery pacer has scalped three wickets after delivering 14 overs.