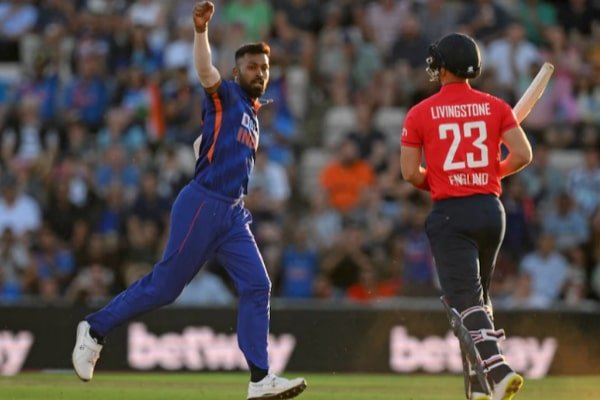 Indian all-rounder Hardik Pandya has said that he is completely focused on giving his best ahead of the upcoming T20I and ODI World Cups. The Baroda-born all-rounder played a vital role in India's 50-run triumph over England on Thursday night. When asked if he looking to make a comeback to the Indian Test side, Pandya said that he is not dwelling much on what might happen in future.
Hardik Pandya hasn't featured in Test cricket since September 2018 courtesy of a recurring back injury. However, the possibility of his making a comeback to red-ball cricket has been boosted massively after his form in white-ball cricket. He had a sensational IPL followed by a decent run in the T20Is, including the opening T20 game against England.
"I am focusing on giving 100 %," says Hardik Pandya
"It is always a good idea to deliver when your team needs it to win. Having an understanding of the circumstances, I want to do what my team needs," said Hardik post-match as he looked elated after contributing to India's win.
Also Read: "Absolutely loved watching him, he would fit in our team" – Ben Stokes praises Rishabh Pant
"Given that that 50 was significant, I would want to give equal weight to both efforts (batting and bowling). Despite losing wickets, we maintained our momentum and scored a good total, " Hardik added.
Hardik Pandya also added that he will not wear the Indian jersey if he is not prepared to give his all for the team. In such a case, he will make the way for the youngsters.
"At the moment, I am not very concerned with the games we will play in the future. After India's triumph in Southampton," Hardik informed the media. "I like to make sure that I am accessible for as many matches as possible for India."
"Since there will soon be major World Cups, white-ball play will be more in demand. I now think it is beneficial for me to play more white-ball cricket for India this season. Absolutely, but only time will tell what I will play and what I should not when the chance to play the Test arises. But now that I am focused, I try to give everything I have, " added Hardik Panta.
The Indian team will now take on England in the 2nd T20I of the series on Saturday. It will be an opportunity for India to seal the series by winning the game.
Also Read: "That's the spot where he can blossom" – Wasim Jaffer suggests ideal batting position for Rishabh Pant in T20Is