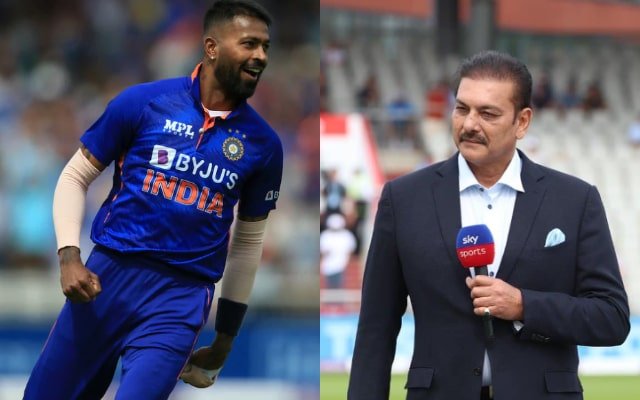 The former India coach Ravi Shastri has opined the all-rounder Hardik Pandya might retire from the ODIs after the ICC World Cup 2023 in India. The former Indian skipper also added that the cricketers might start choosing one or two formats instead of all three in the upcoming future to prolong their careers.
The retirement of Ben Stokes from ODI cricket has sent shockwaves in the cricketing realms as numerous players believe that they are overworked due to a hectic international cricket calendar. Moreover, the frequency of bilateral one-day series is only adding to the problem. Playing all three formats has increasingly become an uphill task for the players and looks like the time has come when cricketers will start quitting one format in favour of the other two.
Ravi Shastri put in his two cents on the matter and stated that Indian all-rounder Hardik Pandya might prefer T20 cricket over ODIs in future. The ex-Indian all-rounder also added that a host of other players are likely to pick formats of their preference in the future, to which they will be entitled.
"Test cricket will always remain because of the importance it brings to the game. You have players already choosing what formats they want to play. Take a Hardik Pandya. He wants to play T20 cricket, and he is very clear in his mind that 'I do not want to play anything else. He will play 50-over cricket because there is a World Cup in India next year. After that, you might see him going from that as well. You will see a similar thing happening with other players, they will start choosing formats, and they have every right to," said Ravi Shastri as quoted by India Today.
Also Read: "Hard luck Gabbar" – Twitter erupts as Shikhar Dhawan misses out on century in first ODI against West Indies
You have to cut the volume of international cricket: Ravi Shastri
Ravi also opined that franchise cricket is going to dominate the future if it is not doing so already. He further added that the ICC won't be able to stop cricketers from playing in the global and domestic leagues; hence, they need to look at the magnitude of cricket happening at the moment. He emphasized cutting down bilateral cricket to prevent the mass exodus of international cricketers from certain formats.
"It is going to happen, there is going to be franchise cricket that is going to rule the roost around the world. Then how will you have international cricket? You will have to cut the volume, you have to cut bilateral cricket, and go in that direction. You will never be able to stop different players going and playing for different franchises," concluded Ravi Shastri.
Also Read: Reports: Ravindra Jadeja likely to sit out of West Indies ODIs due to injury concerns