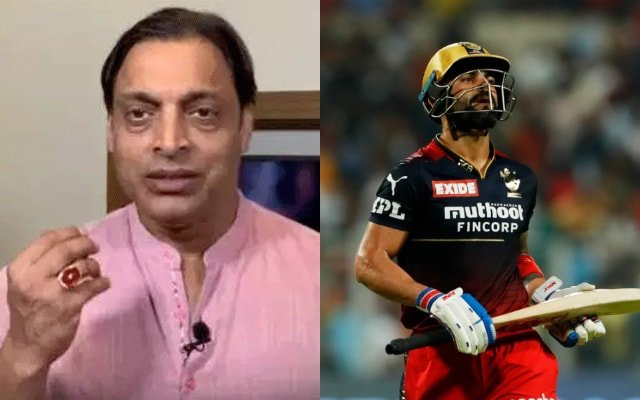 Former Pakistan speedster Shoaib Akhtar has requested the former cricketers and cricket pundits not to criticize Virat Kohli for his poor form. He has urged everyone to give Kohli the respect he deserves courtesy of his contribution to cricket over the years.
The former India skipper has been receiving a lot of flak lately over his poor form with the bat. Virat Kohli struggled to score runs throughout the Indian Premier League 2022 and returned with 341 runs in 16 games under his belt. The RCB superstar averaged only 22.73 and scored at an underwhelming strike rate of 115.98. Moreover, Virat Kohli registered three ducks during the recently-concluded mega T20 league.
Talking about Virat's form, former cricketers, including Virender Sehwag, Ian Bishop, and Daniel Vettori criticized Kohli for his lean patch with the bat. However, Pakistan legend Shoaib Akhtar does not share the same views on the matter and neither does he like the treatment Virat Kohli has been receiving.
"Say good things about Virat Kohli", says Shoaib Akhtar
In a conversation with Sportskeeda, the Rawalpindi Express opined,
"Before passing statements, people should understand that small kids look up to them. Say good things about Virat Kohli. Give him the respect he deserves. As a Pakistani, I am saying that he is the greatest player of all time. I want him to score 110 centuries in international cricket. I want him to play till the age of 45."
Shoaib Akhtar also asked Virat Kohli not to bother about his form as the tough times will help him in becoming a better player to have a great run ahead.
"This tough situation is preparing you for 110 centuries. People are writing you off, tweeting against you. If you tweet about Diwali, you are criticised. People tweet about your wife and kid. When you lose the World Cup, you are heavily criticised. Things cannot get any worse. Just go out there, and show everyone who Virat Kohli is," Shoaib Akhtar added.