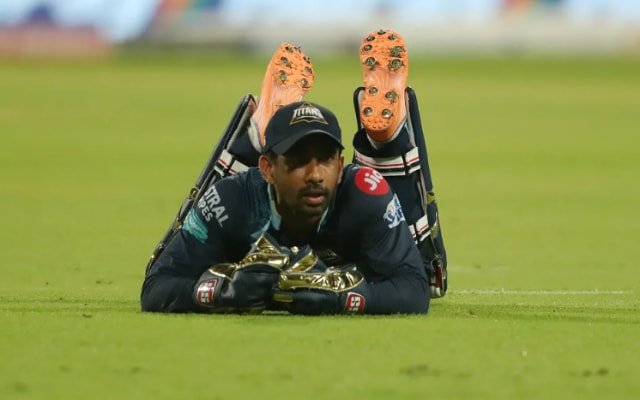 As per the latest developments, the veteran Indian wicketkeeper Wriddhiman Saha has exited the WhatsApp group of his state team Bengal. The story between Saha and Bengal Cricket Board has now turned into a major fiasco and it has been grabbing major limelight lately.
It all started when the Indian head coach Rahul Dravid informed the veteran cricketer that he has no future with the Indian team and they are looking to groom Rishabh Pant for the future.
Following this chat, Wriddhiman Saha refused to play for Bengal as the wicketkeeper had no purpose left in the bank. However, it angered Bengal Cricket's senior official Debabrata Das, who openly criticized the 37-year-old wicketkeeper.
"Tell me, why should Wriddhi [Saha] not play in the Ranji Trophy for Bengal?" he was quoted in the Sangbad Pratidin on February 22. "He is not in the Indian team, why should he not play for Bengal? Then we have to assume that he feels no responsibility towards Bengal. In the past, too, there have been many occasions when he has refused to play for Bengal. When we have spoken to him, he has given all sorts of excuses and skipped games. Sometimes it's body ache, sometimes he has a pain in his leg," said Das while slamming Wriddhiman Saha.
Wriddhiman Saha leaves the Bengal Ranji WhatsApp group
Now, the relationship between Bengal Cricket Board and the senior glovesman has hit a new low. The right-handed batter exited the Bengal Ranji Team WhatsApp group after getting hurt by another statement from the CAB president Avishek Dalmiya.
On Thursday, Dalmiya had said, "The Cricket Association of Bengal wanted Wriddhiman Saha to play for Bengal at this crucial juncture especially when Bengal would be fighting in the Knockout stage in a bid to win the Ranji Trophy after becoming the top-ranked team in the country at the end of the Group Stage."
Wrdddhiman Saha didn't take the statement lightly and quit the Bengal Ranji team's WhatsApp group. Things have escalated so much that the CAB President tried to clarify that his statements were not personal. However, Wriddhiman Saha's wife Romi came out and said 'he (Saha) was hurt' by these statements.