Ever since the advent of social media, netizens are getting equal chances or turns to come up with their own opinions about day-to-day lives. Talking about their social media presence in sports, there have been full of toxic activities especially when a player fails to meet the expectations.
While social media has its own advantages, it has drawbacks as well. Netizens are using this platform in the worst way possible only to hurl abuses or hurt the cricketers by using harsh words. We have also seen fans abusing the cricketers with offensive or cuss words.
From hurling abuses to posting racist comments, fans have indeed crossed their limits. This will only degrade the reputation of the sport. Not a long ago, one of the fans tried to mess with Andre Russell's wife Jassym Lora.
While celebrities receive so much hatred comments on their portal, they surely know how to give it back in style and that's what exactly happened when a fan crossed his limits to troll Russell and his wife Lora.
Jassym Lora gives it back in style
During the 13th edition of the Indian Premier League, Andre Russell was clearly not in his best form as he didn't deliver the goods like he used to. Known for the knack of hitting sixes with brute force, Russell was nowhere close to being best for the two-time IPL champions, Kolkata Knight Riders.
Having played 10 games in the season, Russell managed to score 117 runs only. However, he was pretty decent with the ball as he took 6 wickets to his name. When Russell was not in good shape, a KKR fan took a dig at the cricketer's wife official Instagram handle suggesting her to travel to the UAE.
Due to the coronavirus crisis, cricketers were not supposed to take their wives since the procedure is a little complicated. This is why Russell didn't take his wife to the UAE. The fan suggested Lora fly to the UAE such that Russell would hit the peak form.
"Jassym aunty please go to Dubai Russell is not in good form," the user wrote. Responding to the remark, Jassym wrote, "He's in the best form." Meanwhile, another user wrote: "Is everything ok between you and Russel mam" Lora replied: "I think so why."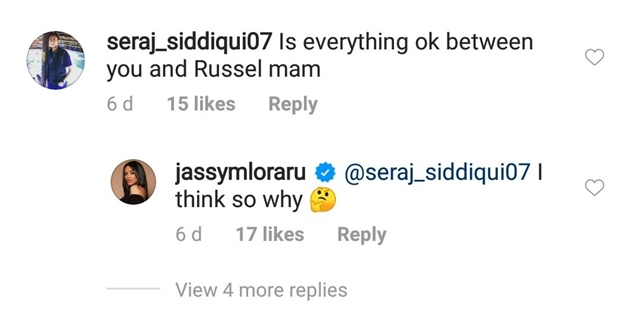 Russell unleashed his batting potential in the Lankan Premier League 2020 when he scored the fastest fifty in the league match against Galle Gladiators. He scored fifty in just 14 balls, which is also the third-joint fastest fifty in T20s.