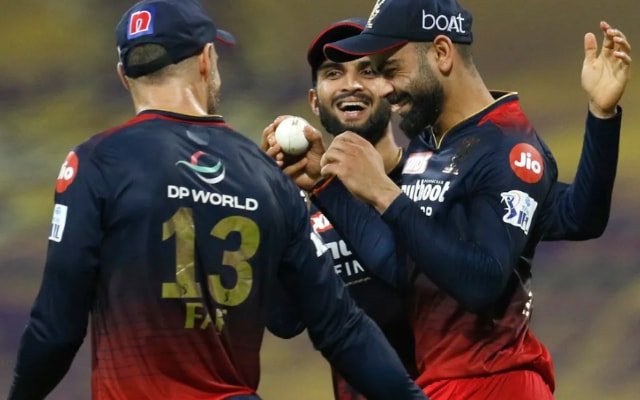 Virat Kohli is synonymous with aggression in world cricket. Whether he is captaining, fielding, or batting, Kohli never shies away from taking a challenge. The former Indian skipper looked back to his old self as he was seen celebrating wildly on the field. Moreover, Kohli put his superman cape on to grab a one-handed stunner to dismiss Rishabh Pant.
Delhi Capitals met Royal Challengers Bangalore in the 27th match of the IPL 2022. An intense contest was on the cards, given the quality present on both sides. Batting first, RCB posted a decent total of 189/5 in 20 overs, courtesy of the brilliant knocks from Dinesh Karthik and Glenn Maxwell. However, the skipper Faf du Plessis and Virat Kohli failed to score runs with the bat.
Chasing the target, David Warner scored a belligerent fifty to keep Delhi Capitals in the hunt. He was looking threatening to take the game away from the Bangalore-based franchise. However, in the 12th over, Warner missed a delivery while trying a reverse-sweep off Wanindu Hasaranga. The ball rapped on the pads, but the umpire didn't raise his finger off RCB's appeal, prompting Faf du Plessis for the DRS.
The DRS went in favour of the Royal Challengers, and Virat Kohli could not stop himself from celebrating. Kohli ran across and celebrated animatedly right on the face of David Warner.
https://twitter.com/Vishal____18/status/1515377309708353536
Virat Kohli turns Superman, plucks the ball out of thin air to dismiss Rishabh Pant
Once David Warner was gone, Rishabh Pant took charge in the middle. The left-handed southpaw looked in good touch and threatened to take the game away from the Royal Challengers. However, Virat Kohli produced a jaw-dropping fielding moment to dismiss Pant.
Searching for a wicket, Faf handed over the bowl to Mohammad Siraj for the 17th over. Siraj bowled the third delivery outside the off-stump, and Rishabh Pant tried to send it out of the ground with brute force. However, the ball travelled over covers and looked set for a ride to the boundary.
But Virat Kohli came in the way to pluck the ball from thin air as he managed to time his jump with perfection.
https://twitter.com/Cricupdates2022/status/1515384244230520833
Virat's wife and Bollywood actress Anushka Sharma was present in the stands, and she also looked hyped after the mindblowing catch.
https://twitter.com/cric_big_fan/status/1515386728617418753
That turned out to be a key moment in the game as the Royal Challengers won the game by 16 runs.