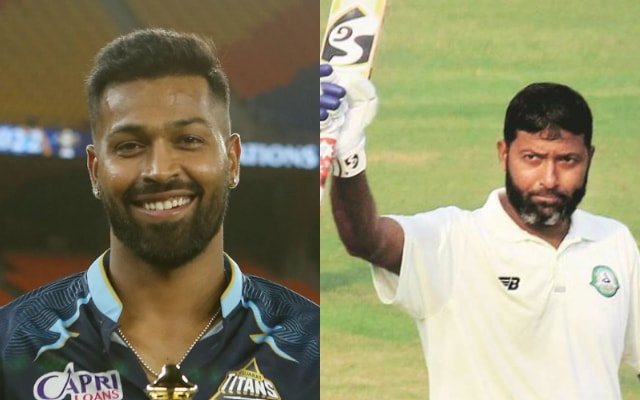 India all-rounder Hardik Pandya has revealed that the former Indian opener Wasim Jaffer was his favourite cricketer while growing up. He further added that he used to rate the Mumbai-batter above other legends of the game.
The Baroda all-rounder also revealed that he likes many cricketing legends, including Sachin Tendulkar, Jacques Kallis, and Virat Kohli. Furthermore, Hardik also spoke about his relationship with his elder brother Krunal Pandya.
Indian cricket has always produced the legendary batters throughout the history but when you ask anyone born in the late 80s or 90s to pick their favourite cricketing icon, they usually name someone from Sachin Tendulkar, Rahul Dravid, Sourav Ganguly, Virender Sehwag, and Brian Lara, Shane Warne, Ricky Ponting, etc among the foreigners.
However, Hardik Pandya has picked the former Indian opener and legendary Mumbaikar Wasim Jaffer as his favourite cricketer growing up. In case you don't know, Jaffer has played 31 Tests for Team India, where he has scored 1944 runs, including five centuries. Meanwhile, he is a bonafide domestic legend with 19410 runs against his name in 260 first-class matches, averaging 50.67.
I used to love watching Wasim Jaffer bat: Hardik Pandya
"I liked Jacques Kallis, Virat, Sachin sir. There are so many greats that you can't pick. My favourite cricketer was actually Wasim Jaffer. I used to love watching him bat. Someone I always placed him above other legends. Somehow, I used to copy his batting, but I was never able to get his class," said Hardik Pandya, Hindustan Times quoted.
Talking about the relationship between him and his brother Krunal Pandya, the explosive all-rounder said that they are each other's backbone.
"Krunal and I are each other's backbone. We talk cricket, life and a lot of things. If you would have asked me six years before that both you brothers would play for India together, I would take it," said Hardik. "Krunal and I were completely different cricketers. We never had a rivalry because our roles were always different," concluded Hardik Pandya.
The all-rounder will soon be seen in the Indian colours as he has returned to the T20I squad for the South Africa series. Pandya played brilliantly in the IPL 2022 and also led his team to the title in their debut season.