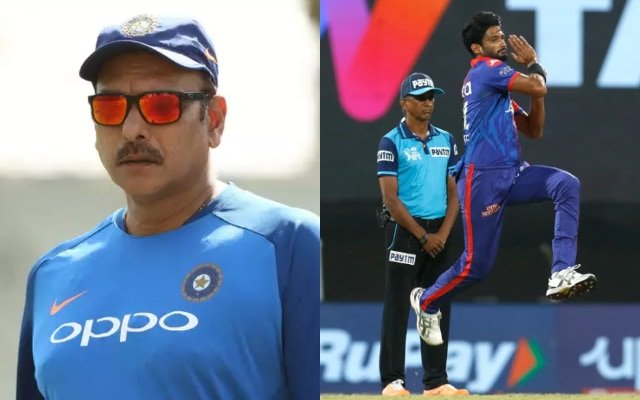 The former India coach Ravi Shastri has urged the Indian selectors to pick Khaleel Ahmed for the T20I World Cup. As per Shastri, Khaleel has improved a lot in the ongoing edition of the IPL for Delhi Capitals and he is looking more confident than ever. Moreover, Khaleel Ahmed will add the left-arm variety to the Indian pace attack in the T20 World Cup in Australia.
The former all-rounder was commentating during the match between Kolkata Knight Riders and Sunrisers Hyderabad when fellow commentator Jatin Sapru brought up the topic of the variety in the Indian pace attack. Sapru talked about how T Natarajan is impressing everyone with his left-arm bowling and he could be an asset for India in Australia. Moreover, he also threw the names of Mohsin Khan, Arshdeep Singh, and Yash Dayal in the mix to talk about the Indian left-arm bowling stock.
Notably, India are searching for a quality left-arm pacer after Zaheer Khan but no one has been able to replicate the performances of the legend. RP Singh and Irfan Pathan did serve India for a few years but later they also got lost in the oblivion.
For the unversed, the current Indian pace attack consists of all right-arm pacers, including Jasprit Bumrah, Mohammad Shami, Bhuvneshwar Kumar, Mohammad Siraj, Deepak Chahar, Shardul Thakur, Umesh Yadav, and Harshal Patel.
Ravi Shastri feels Khaleel Ahmed is the best left-arm pacer in India
Talking about Khaleel, the former coach opined that Khaleel should be India's first left-arm pick for the T20 World Cup in Australia. He also feels that the left-arm pacer has improved a lot in the ongoing season and he would be an ideal pick for the Men in Blue.
Khaleel Ahmed has been in a fine form this season as the Rajasthan-born pacer has accounted for 16 wickets in 9 matches at an average of 18.19.
The pacer recently praised his skipper Rishabh Pant and the team management for better performances.
 "I am enjoying playing under Rishabh Pant's captaincy. I have played with him before so the communication with him is very good and Rishabh Pant understands what bowlers want. So, he is not forceful as a captain. He is very flexible and understands whenever he discusses something about cricket. If he feels that bowler is confident then he backs them. In this way, better results come in bowling. So, I feel that he is doing very good. In times to come after captaining more matches he will get better," said Khaleel Ahmed.