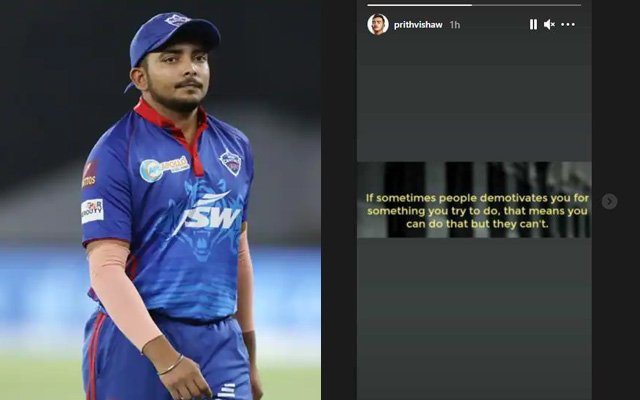 Fitness test has become a mandatory thing as far as Indian cricket is concerned. The Indian team management wants its players to be fit as a fiddle such that they don't experience unnecessary injuries or any fatigues for the amount of work rate they put on the field.
Ever since the fitness test was introduced, it has played a big part in players' confidence levels too. At the same time, it helps avoids the chances of players getting injured as well. However, at times, even good players have failed to clear the test for some reason. Recently, India's young cricketer Prithvi Shaw made the headlines after he failed to clear the yo-yo fitness test.
The star India batter has reportedly couldn't clear the mandatory test following a general assessment at the National Cricket Academy in Bengaluru. The Board of Control for Cricket in India (BCCI) is checking on all its centrally contracted cricketers before the IPL at the NCA.
Prithvi Shaw erupts after failing to clear the fitness test
Meanwhile, the former U-19 World Cup winning skipper, who is not a part of the central contract reported at the NCA to give an update on his fitness status. However, the result was not totally satisfactory. For the unversed, the current Yo-Yo test qualification score is 16.5 for men.
However, Shaw scored less than 15. "These are just fitness updates. Obviously, it doesn't stop Prithvi from playing for Delhi Capitals in IPL. It's just a fitness parameter and not the be all and end all," a source told news agency PTI.
"Look, he has played three Ranji matches back-to-back. Once you play three first-class games on the bounce, the fatigue can also affect your Yo-Yo score. If Prithvi is not being repeatedly considered, then perhaps his fitness standards aren't up to the mark, as in what is expected of a Team India player," the source added.
Soon after that, Prithvi Shaw took to Instagram and posted a story. The youngster warned the people about Karma. He uploaded a story on Instagram that reads, "Please don't judge me when you don't know my situation. You are creating your own Karma."