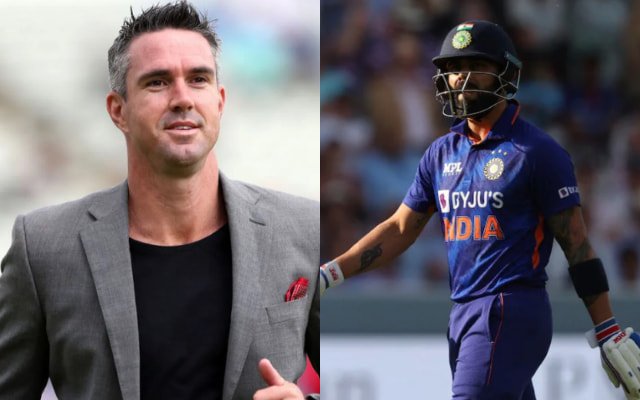 The former English batting star Kevin Pietersen has sent a supportive message to the Indian batting superstar Virat Kohli amid the leanest phase of his cricketing career. The former Indian skipper has had a horrible English tour so far as he is yet to cross the 20-run-mark across the formats.
Virat Kohli's form with the bat is currently the hottest talk of the town. While several cricket experts and pundits have opined that Virat Kohli should return to domestic cricket to work on his game, many former cricketers have come forward to lend their support to the Indian batting superstar.
The latest name to lend his support to Virat Kohli is none other than the former English skipper Kevin Pietersen. There was a time when Pietersen used to dominate the bowlers and he shared the dressing room with Kohli during the IPL 2009 while playing for Royal Challengers Bangalore.
Virat Kohli recently shared a picture from England on his Instagram while posing near a wall-art that reads, "What if I fall, Oh but my darling, what if you fly." The Indian batter captioned the photo as "Perspective".
Kevin Pietersen commented on the post and wrote, "You go big guy! People can only dream about what you've done in cricket. And they're some of the best players that have played the game."
Also Read: "It should be banned completely" former Kiwi all-rounder Scott Styris joins Ravi Ashwin on switch-hit debate
"Be proud, walk tall & enjoy life" – Kevin Pietersen advises Virat Kohli
On Saturday, the former English batter also shared a post on Instagram offering support to Virat Kohli. He posted a picture with the former Indian skipper and wrote, "Buddy, your career has had some of the best that have played the game only wish they could have done what you have(so far). Be proud, walk tall & enjoy life. There's way more than just the bubble of cricket out there. You'll be back, Virat."
Meanwhile, India are gearing up to take on England in the series decider on Sunday. It would be interesting to see if Virat Kolhi manages to sign off the disappointing English tour on a high.
Also Read: "Sometimes you need to make tough decisions" – Brad Hogg has his say on Virat Kohli's place in Indian T20 World Cup squad