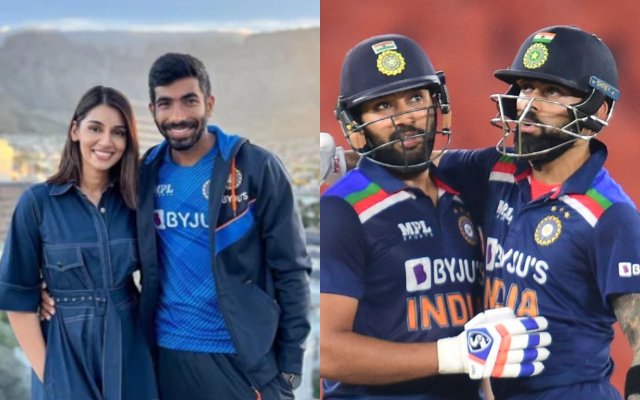 Jasprit Bumrah's wife Sanjana Ganesan has stirred up a controversy by liking a social media post saying, "Virat Kohli is better than Rohit Sharma." In India, cricketer's wives enjoy a massive social media following as the fans maintain a close eye on their social media activities. Whether they are reacting to any posts or commenting on them, more often than not it finds a way to the headlines.
Meanwhile, recently Jasprit Bumrah's wife, Sanjana Ganesan got the limelight for her reaction to a social media post, that might not please Rohit Sharma's fans a bit.
Sanjana Ganesan likes a social media post that says Kohli is better than Rohit
The female sports presenter recently liked a social media post that mentioned Virat Kohli is better than the current Indian skipper Rohit Sharma.
A comedian on Instagram by the username @iimcomic made a post. Sanjana must have come across the post while agreeing with the contents in it and subsequently liked it in the process. The fans were quick to notice the activity and took the screenshots of it.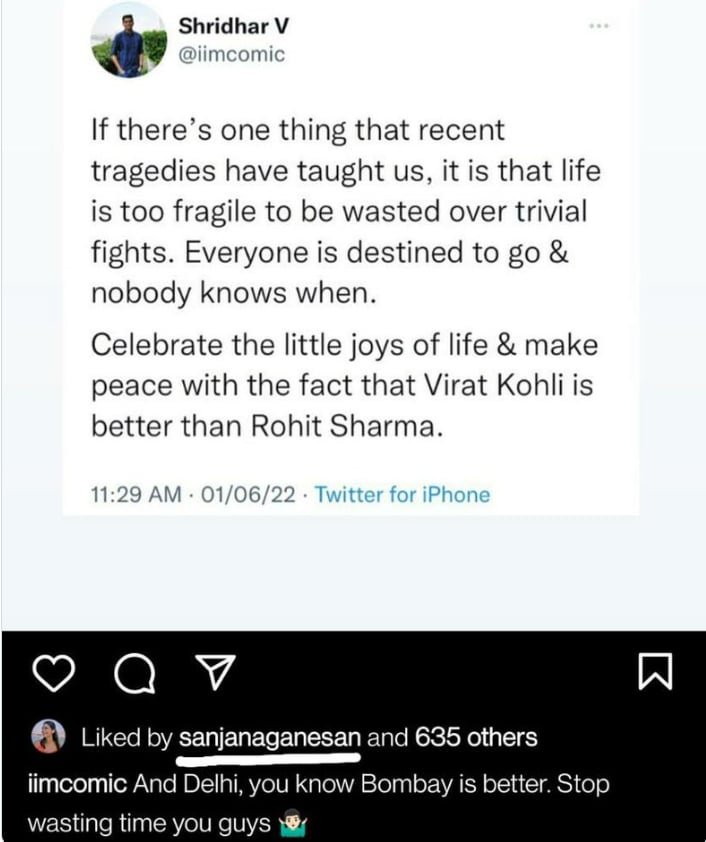 Notably, Sanjana Ganesan's husband Jasprit Bumrah plays for the same franchise as Rohit Sharma – Mumbai Indians. Moreover, she was present alongside the team throughout the IPL 2022 and supported the five-time champions from the stands.
Meanwhile, who is better among Virat Kohli and Rohit Sharma is a never-ending debate in the cricketing realms. While Virat Kohli was miles ahead of everyone but the major dip in his form in the last couple of years has brought him down.
Moreover, Rohit Sharma has established himself as the greatest white-ball batter of this generation since turning into an opener. However, both the legends had an underwhelming IPL season with the bat and Indian fans will hope to see both players back among the big runs at the earliest.