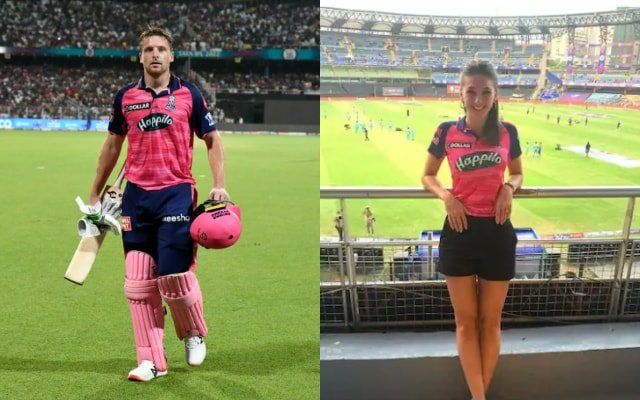 South African batter Rassie van der Dussen's wife has joked about the English wicketkeeper batter Jos Buttler that the Englishman is now his adopted husband. Both players are currently plying their trade for Rajasthan Royals in the ongoing edition of the Indian Premier League.
The inaugural season's champions are having a decent season as they are all set to play the 2nd Qualifier against Royal Challengers Bangalore on Friday. Meanwhile, Jos Buttler is all set to take away the Orange Cap as the destructive opener is leading the batting charts with 718 runs in 15 matches, including three centuries.
With Buttler grabbing all the limelight, one another person is attracting the limelight in the stands is Rassie van der Dussen's wife Lara. Every time the English superstar reaches a milestone, for some reason, the cameraman focuses on Lara while cheering and supporting the team.
Now, she has opened up about the same The Royals podcast, featuring herself, Dhanashree Verma, and Prithi Ashwin.
'Have adopted Jos Buttler as my second husband,' say Lara
Talking about how she has been confused as Jos Buttler's better half and the immense focus she is receiving, Lara jokingly said, "I think I've now adopted Jos as my second husband it seems. I've been known as Louise, I think that's what his wife's name is, I haven't met her before that makes it worse."
"People think I'm Jos' wife. I definitely think it's because I've been in camera quite a few times. And Dhanashree and I cannot control ourselves next to the field as we are quite invested in the cheering. And Jos has been getting 100s as we go along and maybe the excitement has got people thinking probably I'm part of him, so it's quite interesting. And Rassie has not played as much in the IPL so I haven't been able to show the same sentiment to him. So I'll just adopt the cheering for Jos for now on and enjoy it," she added.
When asked if she has any message for the camera people, Lara went on to say, "There are a number of 15 photographer and I don't know what his name is and it's strange in every single game as long as Jos bats the camera is on me."
"Please know that I'm really not Jos' wife, I'm Rassie's wife actually. But I'll take it for now as she is not here, so I'll take it and support for now," concluded Lara.
Rajasthan Royals lost the 1st Qualifier to Gujarat Titans by 7 wickets but they will now have to book their berth in the IPL 2022 as they face RCB on Friday night in Ahemdabad.