Royal Challengers Bangalore are in terrific form in the ongoing season of the Indian Premier League. They are third on the points table with as many as 7 wins and 4 defeats so far. RCB secured 14 points and are just a step closer to making it to the playoffs.
Take all their form and other positive factors into account, one would surely say, RCB would surely make it to the playoffs. They recently locked horns with Rajasthan Royals in the 43rd game of the IPL at Dubai International Cricket Stadium, Dubai.
RCB came through with flying colours as they beat RR by 7 wickets. While things are going smoothly for RCB, a lot has been said about Virat Kohli after he decided to step down as T20I captain after the T20I World Cup 2021.
Ravichandran Ashwin takes a dig at fake media reports
Several reports doing the rounds on social media stated that Ravi Ashwin complained about Virat Kohli's attitude to BCCI. In fact, the majority of the fans started believing the report from IANS and also went on to troll the veteran off-spinner on social media.
Meanwhile, who is quite a busy man on social media came to know about the fake media reports. Upon knowing that the information the news agency provided was incorrect, Ravi Ashwin took the matter into his own hands and roasted the media reports on Instagram.
"I am searching for the handle called "Fake News", it used to be super fun for gossip," Ashwin wrote while updating his story on Instagram. After a while, he came up with yet another post.
The caption of the post reads: "Oh yaaa Thank you guys. Found them: I just heard that they renamed themselves and now are called IANS and some others take quotes from them too. Super fun".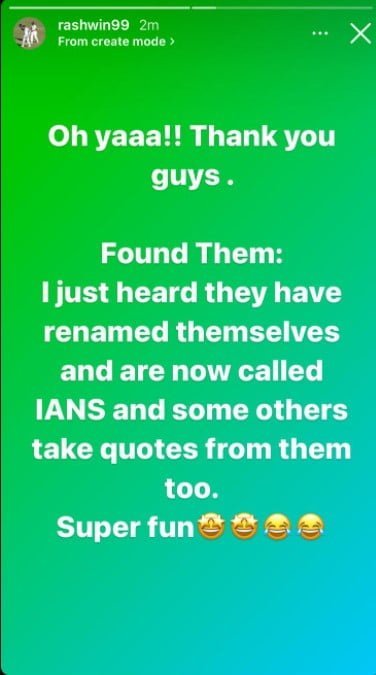 Ravi Ashwin's timely response was all that the fans were waiting for. However, Ravi Ashwin has confirmed that it's all fake. Now, he would like to forget it very quickly and focus on his bowling for Delhi Capitals this season.