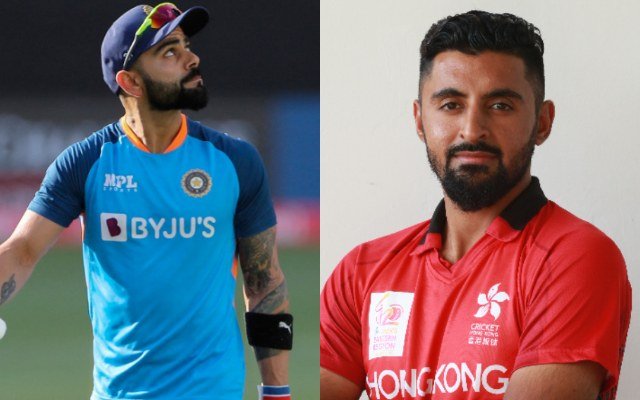 Hong Kong captain Nizakat Khan has revealed that he is a big admirer of batting giant Virat Kohli ahead of his team's encounter with Team India in the Asia Cup 2022.
Kohli, who is marking his return with the continental cup, scored a crucial 35 off 34 deliveries against arch-rivals Pakistan on Sunday (August 28). Highlighting the same, Khan praised the right-handed batter and also expressed his wish to see him score more runs.
"I am a big fan of Virat Kohli, he played well against Pakistan, we really want him to come back in form & score lots of runs," Khan told News 24 Sports.
Also Read: 'He is mentally strong in any situation' – Rashid Khan reflects light on Hardik Pandya's heroics
Anything can happen in a T20 game: Nizakat Khan
Nizakat Khan also recalled how they had a tough fight with the Men in Blue the last time they met in the 2018 Asia Cup. The Hong Kong side lost the game by a mere 20-run in the 50-over format.
"We lost by just 20 runs when we last faced India at the Asia Cup in 2018. Anything can happen in a T20 game. You don't when a bowler can deliver a good spell, or a batter hits some quick runs in a couple of overs," said Khan.
Khan went on to point out that many top sides have lost against the associate teams in the recent past. He also said that his side will take the field with positive body language and focus on the process.
"We have seen in the past too how even the top sides have lost against associate teams. We will go with positive body language and will stick to our process," he added.
Hong Kong will lock horns with the defending champions on Wednesday (August 31) at the Dubai International Stadium in the fourth game of the six-team tournament.
Also Read: Here's why Jay Shah refused to hold national flag during India vs Pakistan