Mumbai Indians' performances were in a chaotic jumble in the ongoing edition of the Indian Premier League. Rohit Sharma and Co lacked the killer instinct to deliver the goods this season. Currently, they are languishing at the bottom of the points table.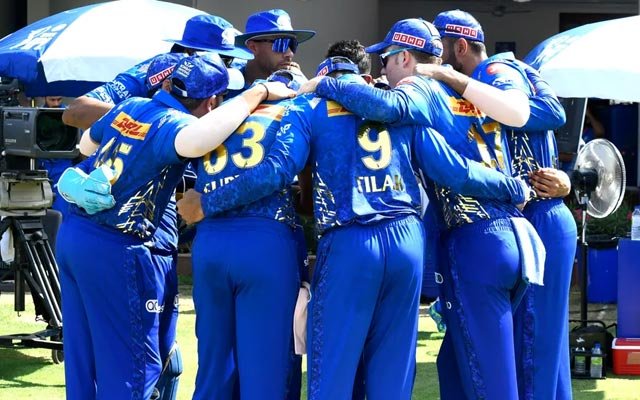 For the first time in the history of the IPL, Mumbai Indians have lost six games on the trot. Despite heading to the drawing board to sort out the woes, the five-time IPL champions haven't really found answers to the questions in the competition.
Mumbai Indians are looking for possible ways and methods to end the run of bad luck. Now, the responsibility lies entirely on their shoulders to turn things around. Rohit Sharma and Co will lock horns with Chennai Super Kings in the next fixture on April 21.
Here's how Mumbai Indians can still make it to the playoffs this season
Mumbai Indians failed to qualify for the playoffs in the last season. They got off to a worst start to their campaign but delivered good end results in the latter stages of the season. In the end, they could finish fifth on the table.
As far as this season is concerned, the bottom-placed Mumbai Indians lost to Rajasthan Royals, Royal Challengers Bangalore, Delhi Capitals, Punjab Kings, Kolkata Knight Riders and Lucknow Super Giants so far.
Nonetheless, they are still in contention to make it to the playoffs. Let's learn more about the scenario. According to the IPL 2011 points table, when 10 teams took part in the competition, the team that were placed fourth had 16 points.
This means that Mumbai Indians need to win all of their 8 remaining matches to reach the playoffs in IPL 2022. For the unversed, in IPL 2014, Mumbai Indians lost their first 5 games but still managed to qualify for the playoffs.
Coming to the current points table, it should not be a surprise if a team with 14 points also make it to the playoffs. Nevertheless, Mumbai Indians should give everything to win all 8 games or at least 7 matches to be in contention.