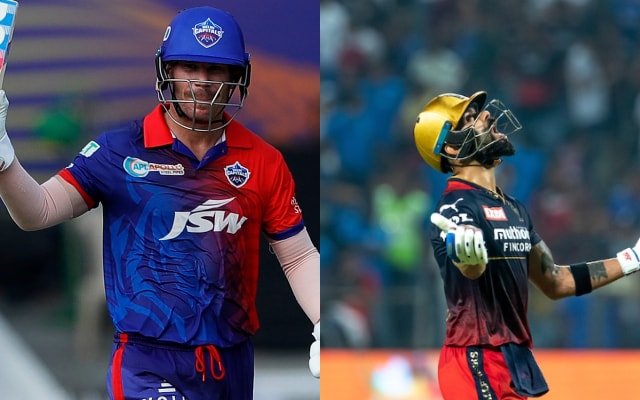 Delhi Capitals' opener David Warner has come up with a unique piece of advice for the former India skipper Virat Kohli amid the batting struggles.
Virat Kohli's batting form has been a talking point in the cricketing circles since the resumption of cricket in 2020. The Indian superstar has looked decent in patches but hasn't crossed a three-figure mark in two years now.
Kohli was hoping to get back his form in the IPL 2022 but he has struggled to get going so far. In the 10 IPL matches this season, Virat Kohli has managed only 186 runs at a strike rate of 116.25.
Amid all the struggles, Aussie opener David Warner has advised Virat Kohli to stick to the basics. Warner is currently playing his trade for Delhi Capitals and he has asked Kohli to have a couple of more kids, enjoy life, and cricket.
David Warner advises Virat Kohli to enjoy life and cricket
Warner was speaking in a meet and greet session hosted by Sports Yaari when he talked about Kohli's form.
"Have a couple more Kids and Enjoy Love! The form is temporary and Class is permanent so you don't lose that. It happens to every single player in the world," said Warner.
"It doesn't matter how good a player you are, you're always going to have these ebbs and flows. Sometimes the ebb is a long way before you get back up there. Stick to the basics," David Warner added.
Meanwhile, Warner is leading the Delhi-based franchise from the front as the Aussie opener has top-scored for them so far. The left-handed southpaw has amassed 264 runs in 7 matches at an average of 44 and a strike rate of over 156.
On the other hand, Virat Kohli scored a half-century in the previous game against Gujarat Titans but it came at a slow rate. The 'Run Machine' will look to get back to his best against Chennai Super Kings on Wednesday.