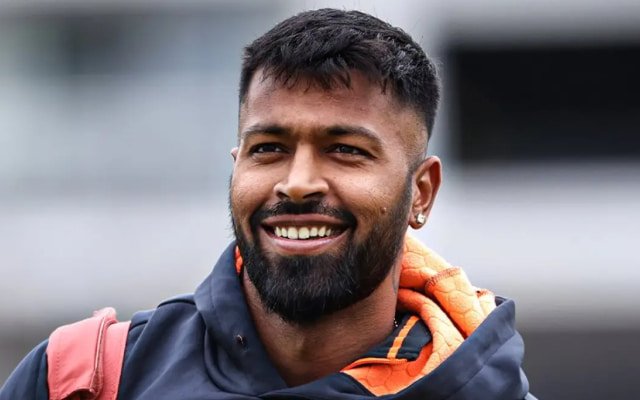 On Sunday, the Indian allrounder Hardik Pandya was trending on Twitter for all the wrong reasons in a bizarre trend. A video of Hardik Pandya from the 2nd T20I against England has gone viral on social media. In that video, Pandya could be heard abusing a fielder while setting the field. As per the fans, the all-rounder is abusing the Indian skipper Rohit Sharma. Meanwhile, as per another group of fans, he is abusing the former Indian skipper Virat Kohli.
Since the video clip has gone viral, the fans have been outraging Hardik Pandya. Both Rohit Sharma and Virat Kohli's fans have accused the Baroda-born all-rounder of being arrogant alongside not respecting the seniors. Therefore, the fans are trending "Hardik Pandya Bha*wa hai" on social media platform Twitter.
Did Hardik Pandya really abuse Rohit Sharma?
While there is no video evidence in the clip circulating but the Indian all-rounder could be heard shouting at a fielder. The incident happened at the end of the fourth over of the English innings. Pandya bowled that over for India.
Also Read: "SURYA cannot be contained in SKY" – Twitter goes berserk as Suryakumar Yadav smashes a blistering century
The audio seems to indicate that Hardik Pandya wasn't happy with a fielder and his attention towards him. He could be heard yelling at a fielder "Maa Chu*ane gya wo, mere time mere ko dekh." In English, it translates to "Fu*k him, look at me when I am bowling."
While there is no clarity at all from the video clip about the player who received the flak from the Pandya. However, the fans are convinced that he has abused the current India skipper and ran an online campaign against the all-rounder.
Watch the video here:
Just because you are a better captain than rohit and you don't eat 1000 vadapavs in a day…You can't abuse his innocent mom on national television 💔#HardikAbusedRohitpic.twitter.com/HWnRVhtcG3

— Cheeku. (@primeKohli) July 10, 2022
It is the second time Hardik Pandya is meddling in such a situation. The all-rounder received a lot of flak during the IPL 2022 for abusing the veteran pacer Mohammad Shami while captaining Gujarat Titans. The fans were in no mood to spare the all-rounder as they vent out their frustration on Twitter.
Check out the best reactions here:
This incident of hardik pandya openly questioning & abusing Rohit Sharma shows that Even players don't rate the new captain #HardikAbusedRohit

— Yashvi (@BreatheKohli) July 10, 2022
Yesterday when Virat Kohli was entertaining crowd by his dance Pandya openly abused him and said to other teammates " maa ch*dane gya vo , mere time mere pe dekho "

Pandya should've have shown some respect to his ex captain. Pandya deserve the trend #हार्दिक_पांड्या_भडवा_हैं

— S ∆ C H I |🇮🇳 (@fadesachi06) July 10, 2022
Teammates on Virat Kohli – " He is better than Sachin"

Teammates on Rohit Sharma – "Maa ch*dwane gaya vo"

Perfect example that respect is earned and not demanded. No matter how good PR you hire and get pampered by BCCI and Mumbai Cricketers.#HardikAbusedRohit

— Viru Sharma (@183_Mirpur) July 10, 2022
This hardik pandya against Rohit Sharma incident is a a true example of "Respect is deserved, not demanded"#HardikAbusedRohitpic.twitter.com/5ZpDpccZA2

— Akshat (@ReignOfVirat) July 10, 2022
We will not tolarate abuse for Indian Captain Rohit Sharma by Hardik Pandya. It's okay that he won IPL without Rohit, but still it's very disrespectful #HardikAbusedRohitpic.twitter.com/hSwNHXQ8de

— nitin (@OrdinaryEndian) July 10, 2022
no one likes you, people openly question your authority, even an ex MI player doesn't respect you @imro45 😂😂😂wadda legacy #HardikAbusedRohit pic.twitter.com/H0IJjVswGM

— ⛅️ (@ffsvirat) July 10, 2022
Also Read: "Most overhyped bowler" – Twitter rips apart Umran Malik after another expensive spell