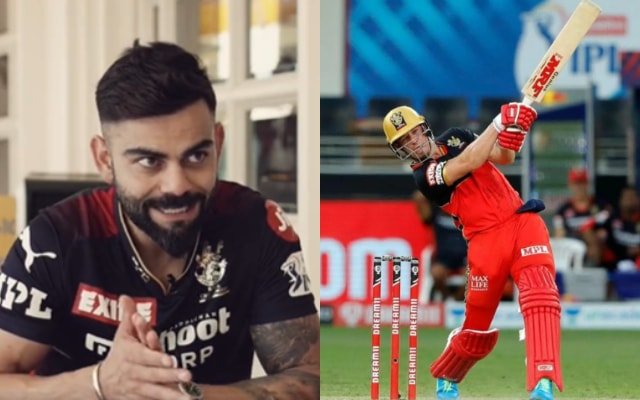 Wait, what??? Did Virat Kohli accidentally reveal AB de Villiers' return to the Royal Challengers Bangalore?
"ABD, ABD, ABD," who could forget the chants in the stadiums when a certain South African used to take strike during the IPL games. He is arguably the most loved foreign cricketer in India. A modern-day legend and one of the finest batters to grace the game of cricket – thou name is AB de Villiers.
When de Villiers retired from all forms of cricket last year, he left a massive hole in the cricketing realm. The Proteas legend retired from the international cricket in 2018, but he kept entertaining the crowds across the various T20 leagues till 2021.
AB de Villiers' last game came wearing RCB's jersey in the Indian Premier League 2021. He was signed by the Bangalore-based franchise in 2011 and soon became synonymous with the Reds. Who could forget his iconic knocks in the RCB colours and his 360-degree shots to stun opposition?
AB de Villiers shared a close bond with his teammate Virat Kohli, who has been associated with the franchise since the inaugural season. In a video shared by the RCB's official Twitter account, Kohli revealed that he misses playing alongside de Villiers and also dropped a major hint about his return to the franchise.
"I miss AB de Villiers a lot; I speak to him regularly." – Virat Kohli
In the video, Kohli said, "I miss him a lot. I speak to him regularly, quite regularly. He keeps messaging me. He was in the US recently watching golf. Augusta Masters is what I heard it was called. So he told me he was there experiencing it with his friends and family."
"So we stay in touch and he's very keenly watching RCB and hopefully here next year in some capacity," Virat Kohli further added with a wry smile.
He soon realized the gravity of his statement and asked with a cheeky smile, "Did I spill the beans?"
Interview of the year! Catch Virat Kohli in a relaxed, honest and fun avatar, even as Mr. Nags tries to annoy him just like he's done over the years. 😎🤙

Tell us what the best moment from this interview was for you, in the comments section. 👨‍💻#PlayBold #IPL2022 #RCB #ನಮ್ಮRCB pic.twitter.com/vV6MyRDyRt

— Royal Challengers Bangalore (@RCBTweets) May 11, 2022
While it is certain with Kohli's statement that AB de Villiers won't return to the RCB as a player, he is likely to join the franchise the next season as a member of the support staff.