Steve Smith who is recovering from an elbow injury recently gave a statement to Cricket Australia that he is thinking of skipping the T20 World Cup 2021 that is being held midway through October to be fully fit before the Ashes begins in December. Let us see whether Smith's absence really affects the Aussies team or is going to be a blessing in disguise.
Steve Smith is known for his consistent performance in Tests and ODIs for Australia whereas the questions are still raised over his T20 performance. Smith started his T20 career for Aussies in 2010 through which he has aggregated a total of 794 runs in 37 innings at a strike rate of just below 130 with the highest score being 90 to his name. But Smith has struggled in recent years in T20 matches be it International, IPL or World Cup.
Steve Smith in T20Is (Last 3 years)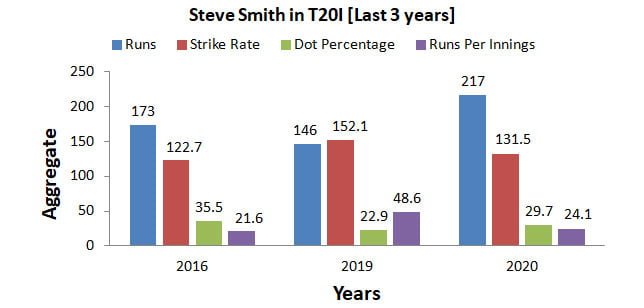 From the above plot, it is evident that Smith's performance is not up to the mark for his standards set in ODI and Test. In 2016 he has a very low strike rate and has not scored many runs with Runs per innings being very low of around 21. He had a good 2020 but he played only 3 innings during the year. Then again his performance level decreased in 2021 with a strike rate of just above 130 and runs per innings being only 24.
Steve Smith in IPL (Last 3 seasons)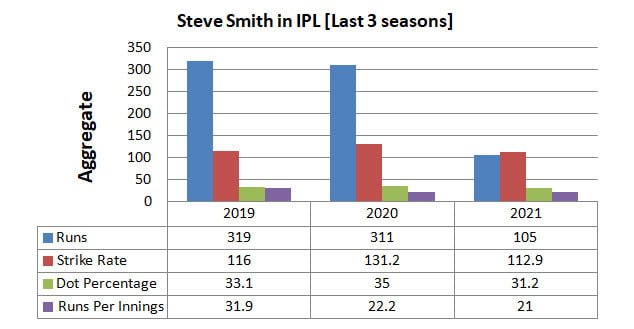 The above plot shows Smith's performance in the last 3 seasons of IPL including the currently suspended season of 2021 where his performance indicates that run-scoring per innings has drastically reduced which was in 30's in 2019 to 20's in 2020 and 2021. Even though in 2019 he scored well per innings but at a poor strike rate of just 116.
In 2020 he had a good scoring rate but the runs scored per innings is very low around 22 and in 2021 both strike rate and scoring per innings have taken a beating. Looking at these performances might be the reason why Rajasthan Royals did not retain him but was lucky enough to be picked by Delhi Capitals.
Steve Smith in ICC T20 World Cups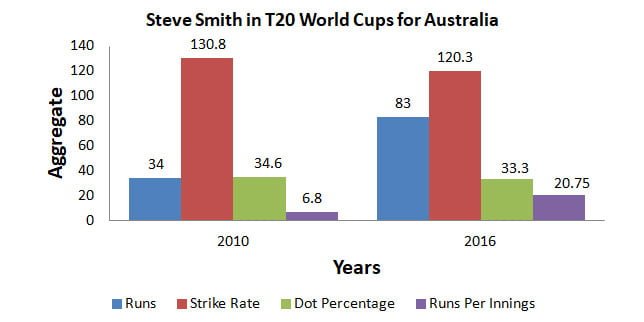 Taking into consideration the T20 World Cup, Smith has played two T20 world cups for Aussies in 2010 and 2016. Smith has got 117 runs in 9 innings at a Strike rate of just on par around 123. In 2010 it is clearly visible that he had a poor outing with the bat at a decent strike rate of just above 130 but a very poor score per innings at a mere nearly 7. Also in 2016, except for one good knock of 61 he has scored only 83 runs striking at a below-par 120 and scoring per innings at just around 20 runs per innings.
So, considering all the above factors in the plots his performance is not really satisfactory to be in the T20 side for Australia in World cups and Smith opting out of the T20 World Cup can also be a blessing in disguise for the Australian team who are yet to win a T20 world cup which also provides an opportunity to Aussies selectors to blood in a new player irrespective of Smith decides to skip the T20 world cup or not.